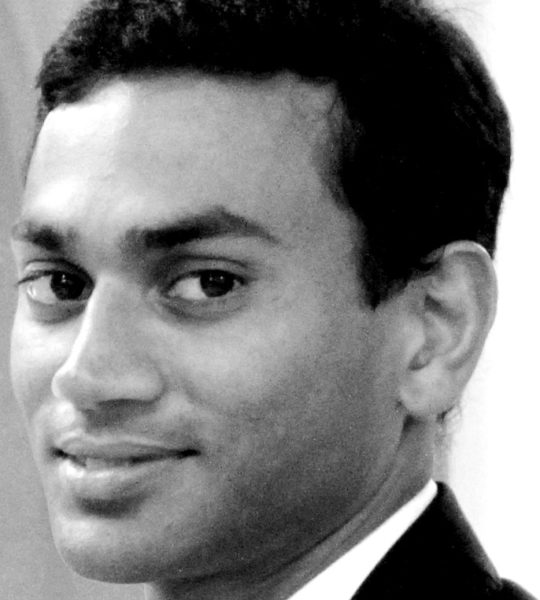 Pradeek Susheelan, Esq. attended the University of California, Berkeley School of Law (Boalt Hall),  earning a Masters in Law (LL.M.) with certifications in Social Justice & Public Interest Law, and Public Law & Regulation.  His focus during the Masters program was on challenging agency actions in immigration matters by utilization of administrative law. He has a particular interest in appeals of immigration cases. Mr. Susheelan is a member of the New York Bar and the American Immigration Lawyers Association, chapters of Northern California and Santa- Clara, CA (Silicon Valley).
Mr. Susheelan is an immigrant to the United States and was born in the United Kingdom to Indian immigrant parents. He attended School in Bangalore, India, and has lived in London, Kuwait, Dubai, Atlanta and New York. In London, Mr. Susheelan attended the Prestigious Inns of Court School of Law that counts amongst its alumni Mahatma Gandhi, Muhammad Ali Jinnah, Jawaharlal Nehru and four British Prime Ministers including Tony Blair and Margaret Thatcher.  He is a member of the Bar of England & Wales and a Barrister of the Honourable Society of the Inner Temple.
Mr. Susheelan has been a speaker on Labor certification at the American Immigration Lawyers Association and ILW conferences. He was a partner at the law firm of Stewart & Susheelan, PLLC, an associate at The Fogle Law Firm that won the most decisions in the immigrant unfriendly 11th Circuit, and a Partner at the 35-year-old SYSS Law firm focused on the IT sector. Mr. Susheelan maintains a national practice that covers all sections of immigration law, he is also of-counsel to an AV rated global business and employment immigration law firm  and volunteers at the East Bay Sanctuary Center where he represents Asylum seekers.
What clients say
My experience with Pradeek was exemplary. His analytical, and comprehending skills helped in making pertinent suggestions on my H1b denial case. He was meticulous in putting together a solid response and paperwork to ensure reinstatement of h1b locally. This saved us travel with new born and missing school for the bigger kids. I would highly recommend Pradeek to anyone in need of Employment based immigration services.

Mohammed Applicant had been out of status for 5 months due to denial of petition filed by prior attorney

Pradeek was hands on from day 1 on my H1B application. He was mindful of the various requirements and complications of the ever-changing process, taking ample precautions and offering advice as to how to best curate my case for approval, which I obtained without a hitch. He is very patient in explaining the various facets of the process and alternatives for various outcomes and the best part is that he does not provide a cookie cutter solution but a very personalized approach. I already recommend him to my contacts and highly recommend him.

Utsav 2017 H-1B Cap beneficiary

Pradeek is an exceptional immigration lawyer with extensive understanding of possibly all areas of immigration. He is very personable and handled my case with extreme care. I came to him with a very short deadline for my green card application and he was meticulous in carving my application which was approved in less than 10 days. There were times when I was ready to compromise with what I had but Pradeek's constant encouragement kept me going and we had a great application ready in a short period of time. Can not thank him enough. He is going to be our family lawyer if he is willing.

EB-1 Extraordinary ability Petitioner

Pradeek has a very good understanding of asylum process. His help and availability were intrumental on my niece's asylum approval. I'm very grateful to him.

Cameroonian Asylum Applicant

Mr. Pradeek Susheelan is a top-notch immigration attorney and is very knowledgeable in the field of immigration law. He handles all matters in the U.S. immigration laws. I had a consultation with him to discuss about my L1A visa. He has shown good care towards my concerns and questions, he took the time to explain to me more about what I should do. He is very professional and I am very impressed with his suggestions. I would engage him in the future for any other immigration matters and highly recommend others to approach him as well.

Babu L-1A Consultation

Pradeek is an excellent immigration attorney .He worked late into the night preparing documents for my case when even I had given up hope. I would recommend him for even the toughest immigration issues .

Peter L-1A beneficiary

My earlier immigration attorney messed up my H1b extension and got it denied. Then we contacted Pradeek for re filing. He is very professional and has lot of insight in h1b issues. He did lot of homework on my case and interacted with me round the clock for almost 2 days to get it re filed and eventually getting it approved. Just trust him to resolve all your complex immigration issues. He is very professional,understanding and has expertise in what he does.

 Vamsi A H-1B Beneficiary

Pradeek and his team helped us with marriage base status adjustment. They are very friendly and approachable professionals. From filling out the application to preparing us for the interview, they guided us at every step of the way. They were available to help us at odd hours of the day and were available through multiple channels such as email or phone and even text. Pradeek is extremely knowledgeable about immigration related matters and has a passion for helping his clients. This passion was evident when he was willing to go an extra mile to prepare our case. Filling out the USCIS paperwork can be a very tedious task because not only do you have to fill out the application but there is a lot supporting documentation required. Having the appropriate supporting documentation can make or break your case since it is a critical part proving the authenticity of your case. Pradeek and his paralegal Binal prepared our paperwork and organized our supporting documentation. They were on top of everything from beginning to end . Pradeek met with us multiple times to prepare us for the interview. Our interview went very smooth and we were asked to submit no additional paperwork or proofs. The green card was sent to us very shortly after the interview. We are very happy with the services Pradeek and his team provided us and would recommend him to anyone who needs help with immigration related matter.

Harkawal Preet Singh Saini Marraige based adjustment client.

Our company requested consultancy for green card applications for employees with various visa status. During the entire process, Mr. Susheelan was available and provided an outstanding expertise quality. I would recommend M. Susheelan for any topic related to immigration law.

Dominique Beeline Group (German Multinational)

Pradeek possesses the most sought-after qualities of a lawyer. He is always there for you; he is very well equipped with the knowledge of immigration laws and above all he uses that knowledge to give you clarity about your situation with great skill & patience. And that's very important because as clients, we feel so trapped at times, with all legal jargon, we need an attorney like Pradeek at such times.

Beena

Pradeek is really well informed attorney. I worked with him for 3 years. He has a deep knowledge on all immigration matter. The best about him is that he always call you back or email you back which most other attorney not do. I know my many friends they always say that their attorney never reply them. Pradeek is really very good and he knows his work.

Nand EB-5 Investor

Pradeek is an eminently competent attorney and he is very knowledgeable in the all areas of immigration and asylum law. I have found him to be personable and considerate. He explained the fundamentals clearly and guided me every step of the way. If you are like me, someone who cannot be bothered with the labyrinthine complexity of immigration and asylum law, I highly recommend Pradeek to accompany you through what could otherwise be a gut-wrenching experience.

Haruna Immigration Court Asylum Applicant

My family knew Pradeek since last four years and we have not been to any other attorneies since then. My family consists of 5 with me, my wife and three childeren with varities of immigration problems like H1, H4, F1, marriage to American citizan, DACA, Renewal of DACA and last but not least, proceeding for removal and many more. These many varities of problems need immigration advise not only during Monday to Friday, but also after 5 pm on Friday to next week Monday morning including Saturday, Sunday and other holidays. And Mr. Pradeek was always there whenever we needed him. He is like an Immigration Expert in family who is ready to help 24/7-365. and he is trustworthy and responsive because he was always there whenever ewe needed him. First time when we met Mr. Pradeek four years ago, we thought he will finish in 15 to 30 minutes like other lawyers, (and believe me, i have seen atleast 6 to 7 lawers in our 11 years stay in USA.) but he took more than two and half hours explaining me and my family with different problems and solutions to them and we came out very happy and contented from his office.

Salim Malik

He is a great immigration lawyer. He gave me the right answers whenever I asked him about my case. He is very informed about new immigration laws. He is very kind and friendly. He didn't say just "Yes" or "No" about my questions .....like most of lawyers.....He was trying to find the correct answers and the right ways. I think he is the best one. I just came back from Korea yesterday. I had a great time with my family and friends. I had no problems with my greencard when I came back into America. My dream came true. Thanks Pradeek!

 Chang LGBT adjustment applicant

Mr. Susheelan took over our case about six months ago. He seemed very knowledgeable about our case although it had been going on for more than 10 years. He got the case and came right up to speed and handled it as though he'd been there from the start. I am very satisfied with the work he did and his strategy for handling the case. He was able to professionally represent us before the court. We will forever be grateful for the work he did for us. We would certainly hire him again if there was ever a need.

James Immigration Court Respondent

Pradeek is an excellent lawyer. He was introduced to me in the Law Firm as a follow up to my case to meet with immigration and he proved himself worthy. He was very friendly, gentle, patient attentive, and also prompt to act in front of the immigration personnel. I was indeed amazed with the way he handled my case in front of the immigration personnel and with supporting evidence and at the end, my green card was given to me. I will recommend him any day and any time to anyone who is looking for a lawyer who is passionate to handle their case.

G.E. Violence against women act Applicant

Pradeek helped my husband and I with our immigration case. Although we had a few hoops to jump through, he made the process very fast and easy for us. He is knowledgeable and very dependable. The staff at the office were also helpful and friendly. I would recommend Pradeek to anyone seeking assistance with immigration cases especially if you have had arrests. I am very thankful to him for helping our family obtain what we needed most. We can breathe easy now!!!

 Katrina Lay Deportation Defense/Criminal Immigration client

We are forever grateful for Mr. Susheelan's hard work and dedication to our case. Both he and his staff treated us with respect and professionalism from start to finish. We would highly recommend this gentleman to anyone in need of an immigration attorney.

W&J Same Sex marraige based adjustment

Mr. Pradeek Susheelan, Esq. is an exceptional immigration attorney. He reviewed and handled my Green Card application with the USCIS and I can confirm that he is a very thorough, punctilious, and honest attorney with vast knowledge and experience in US Immigration Law. His intuition and quick thinking helped me avoid a lot of unnecessary delays in the immigration process as well as his "can-do" attitude and confidence made it easier for me trust his judgement on how to move quick towards a successful application. I have strong confidence in Pradeek's amazing skills and abilities as an immigration attorney and without hesitation, highly recommend Pradeek Susheelan to my friends and family. Thank you Pradeek for your incredible work with my case. You are simply the Best!

Mark Labor Certification Beneficiary

Pradeek Susheelan, Esq. immigration worked on my application to permanent residence (green card) in 2013. Pradeek was a professional, courteous, and very supportive attorney who quickly understood my specific migratory situation. He was clear and knowledgeable about the steps I needed to take to successfully apply for green card under the employment-based category. Pradeek helped me reviewing and preparing critical documentation and submitted all the application package to USCIS on my behalf. When preparing my supporting documentation, we worked long hours together for several days to structure a very strong evidence for my case. As a client, I find these as clear signs when a serious immigration law firm staff are truly committed with its client's case in order to get things done right and on time. In addition to that, Pradeek always answered all my immigration-related questions and concerns in a pretty quick manner. Seven months later I received the I-797 approval notice and my green card in the mail. Now I am starting a new stage in my personal and professional life in the United States as a permanent resident. Without hesitation, I highly recommend Pradeek Susheelan to other clients who are embarking in the immigration process and want both a successful outcome and complete peace of mind.

Andres National Interest Waiver Applicant

Pradeek was quite simply amazing and I would recommend him to anyone looking to get through the Green Card process. He was also super-responsive. But most importantly you can tell the first time you talk to him that he genuinely cares about his clients and understands how important and stressful this process can be.

H Patel Adjustment during seperation

We shared our case with Mr. Susheelan, and he was very professional and open from the begining. He worked hard in our case, and he kept us informed for every requirement and result during the case. He has delivered what he has promised us, and we did not have any doubt at any point about his ability to get the job done. We were able to reach him any time we have had a question or concern, and he spent the time and effort to provide the answers. During the entire process we were well informed what needed to be done and what were the outcomes or challenges. It is great to have such an attorney who provide such a legal service and dedication to your case. I will go to him any time I need assistance about legal issues.

Mason

I would like to say that Mr. Susheelan is very professional. He is very knowledgeable and well experienced which bring the best result possible. He was also helpful in areas of law that I did not actually hire him for. He is always supportive and always willing to listen and give the best advice. He helped me through one of the most difficult times of my life. I would highly recommend Mr. Susheelan to my friends and family.

 Amir

Pradeek is a punctual, astute and honest attorney that worked diligently on my case until I received my green card in the mail. He gave me my options and explained the procedures in detail. He accompanied me to my interview as well as my appointments. Incredibly reliable and highly effective and knowledgeable. I have worked with two other immigration attorneys before him that ended up wasting my time and money. Very appreciative of his services; I recommend him for any immigration case...

Hadi Labor Certification beneficiary